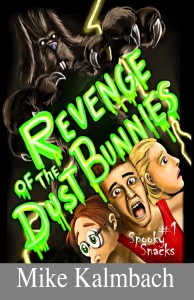 Book 1 of the Spooky Snacks series. "Scary short stories with a silly twist!"
Best for 4th-6th grade students. Perfect bedtime read for fans of Goosebumps!
40 pages
Paperback: 5 B&W illustrations and 2 games
Ebook: 5 full-color illustrations

Don't clean your room!
Dust always seems to collect in strange places: on your dresser, behind the TV, and under your bed.
It's not random. There's something sinister going on. A hidden group is behind this.
And they have a plan.
Purchase information
Revenge of the Dust Bunnies is available from:
Other books by this author: