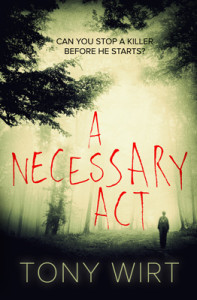 Can you stop a serial killer before he starts? If so, should you? How far would you go?
The students at Lake Mills Community High School knew there was something wrong with Scott – but what David saw firsthand was more than they could ever imagine. He and his best (only) friend Matt were content to keep their suspicions to themselves until a simple trip to the library sets them on parallel trajectories where even the most careful plans have unexpected consequences that can rock a community and reverberate long after they're gone.
Fifteen years later, Matt loses his high-profile reporter gig and is forced to return to the town he did everything he could to leave behind. He gets a shot at redemption with the small-town weekly where he started and quickly discovers a community that has moved on from the past. Well, everybody but David. He remembers everything and doesn't buy a thirty-something Scott's "normal" act. There's a madman hovering inside. After all, some people never change, right?
Something the entire town is reminded of when the first dead girl turns up.
Purchase information
A Necessary Act is available from:
Amazon in Kindle.
Directly from the author
Other books by this author:
No other books are currently registered for this author.