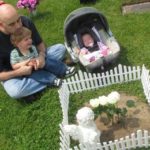 On December 30, 2010, my wife went into premature labor with our twin boy and girl. This is my journal detailing our 124 day vigil at the local neonatal intensive care unit (NICU), where we lost our boy, kept our girl, and found the strength to get through it all and heal as a family.
Purchase information
124 NICU Days is available from:
Amazon in Kindle.
Directly from the author
Other books by this author:
No other books are currently registered for this author.